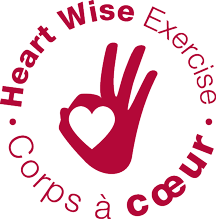 Heart Wise Exercise works with fitness providers in your community to develop and identify programs and classes that are appropriate for people who want to stay healthy or who may be living with a chronic health condition.
A program or class that displays the Heart Wise Exercise logo does all of the following:
a. For in-person exercise:
i. The requirement of current CPR certification,
ii. Phone access to local paramedic services and
iii. Presence of an AED
b. For virtual exercise:
i. Advises participants to create a Personal Emergency Plan*, including phone access to local paramedic service
ii. Ensures all participants have shared their phone number and address with the exercise leader, in case of emergency
Heart Wise Exercise-approved offerings cover different types of exercise with different levels of intensity. The program descriptions provided by the facilities will help you find the Heart Wise Exercise program for you. If you're not sure, please contact the program operator or your healthcare provider.
To find a HWE program near you, find your location and search our interactive map.
Evaluated for Quality and Satisfaction
In 2015, we performed a formal evaluation of Heart Wise Exercise to see how well program sites fulfill the six criteria that are at the heart of the HWE model. We also surveyed a sample of HWE participants and a sample of fitness leaders delivering the programs.
The results confirmed that Heart Wise Exercise participants are highly satisfied with the program. We also found that HWE sessions, with only a few exceptions, meet our six criteria and that we are reaching our core user group of persons with chronic health conditions and/or with risk factors for heart disease.
The survey also found that the fitness leaders themselves indicated that they are confident and knowledgeable instructors in the area of exercise in chronic disease.